Latin Lace Florentines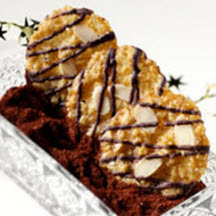 This recipe features a unique flavor twist on the traditional Florentine cookie with a hint of cinnamon and chili. Another unique feature of this version of the cookie is that it is not cooked in a saucepan prior to baking as do traditional recipes for Florentines.

Recipe Ingredients:
3/4 cup quick-cooking oats
3/4 cup all-purpose flour
3/4 cup granulated sugar
1 teaspoon ground cinnamon
3/4 teaspoon chili powder
1/2 teaspoon baking soda
1/2 teaspoon salt
1 1/2 cups sliced almonds
10 tablespoon (1 1/4 sticks) unsalted butter, melted
1/4 cup half-and-half or whole milk
1/4 cup light corn syrup
1 teaspoon pure vanilla extract
4 ounces fine-quality bittersweet chocolate, chopped
Cooking Directions:
Preheat the oven to 350ºF (175ºC) with oven rack in the middle. Line baking sheet with a silicone baking mat or heavy-duty aluminum foil buttered generously.
In a large bowl, whisk together the oats, flour, sugar, cinnamon, chili powder, baking soda and salt. Stir in almonds.
Add butter, half-and-half (or milk), corn syrup and vanilla. Stir to combine.
Scoop heaping teaspoons of batter onto the prepared sheet at least 3 inches apart, six cookies per sheet.
Bake one sheet at a time until the cookies are flat and browned around the edges, 7 to 9 minutes.
Cool cookies on the sheet several minutes, until firm enough to transfer to a cooling rack.
When all cookies are baked, melt the chocolate in a metal bowl set over a pan of simmering water. Using a very small tipped pastry bag or the tines of a fork, drizzle the chocolate in a zigzag pattern over the tops of the cookies.
Makes about 2 dozen.
Tip: For the best chocolate flavor, look for bittersweet chocolate with a minimum of 60 percent cocoa solids.
Recipe and photograph provided courtesy of Wisconsin Milk Marketing Board, Inc.