Mint Meringue Kisses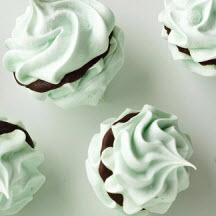 You don't need to be a pastry chef to create these impressive-looking treats. Using sugar, eggs, and mint extract, you can whip up a batch of perfectly peaked mint meringues. Don't forget to fill their centers with melty smooth chocolate.
Recipe Ingredients:
4 large egg whites
1/2 teaspoon cream of tartar
1/2 teaspoon salt
1 1/3 cups granulated sugar
1/4 teaspoon mint extract
7 drops green food coloring
2 ounces semisweet chocolate, chopped
1/2 teaspoon vegetable oil
Cooking Directions:
Allow egg whites to stand at room temperature for 30 minutes. Preheat oven to 225°F (105°C). Line a large cookie sheet with parchment paper; set aside.
In a large mixing bowl add cream of tartar and salt to egg whites. Beat with an electric mixer on high speed until soft peaks form (tips curl). Gradually add sugar, 1 tablespoon at a time, beating on high speed until glossy and stiff peaks form (tips stand straight). Beat in mint extract and green food coloring.
Transfer meringue to a pastry bag fitted with a 1/2- to 3/4-inch open star tip. Pipe stars 1 inch apart onto the prepared cookie sheet.
Bake about 60 minutes or until meringues appear dry and are firm when lightly touched. Turn off oven. Let meringues stand in the closed oven about 60 minutes or until cool and crisp.
In a small saucepan heat and stir 2 ounces chocolate and the vegetable oil over low heat until melted and smooth. Spread about 1/2 teaspoon each melted chocolate on the flat sides (bottoms) of half the meringues. Press the flat sides of the remaining cookies against the filling. Let stand until set.
Makes 60 meringue cookies; 30 sandwich cookies.
Make-Ahead Directions: Layer the unfilled cookies between sheets of waxed paper in an airtight container; cover. Store at room temperature for up to 3 days or freeze for up to 3 months. Fill cookies before serving.
Nutritional Information Per Serving (1/60 of recipe): 47 kcal cal., 1g fat (0g sat. fat, 0g polyunsaturated fat, 0g monounsatured fat), 0mg chol., 46mg sodium, 10g carb., 0g fiber, 9g sugar, 1g protein.

Recipe and photograph provided by Better Homes and Gardens - BHG.com a member of the Home and Family Network for the best of cooking, gardening, decorating and more. © Meredith Corporation. All Rights Reserved.