Golden Crown Honey Pound Cake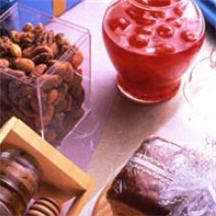 These honey-sweetened loaves of pound cake, laden with maraschino cherries and pecans, make wonderful gifts.
Recipe Ingredients:
1 cup butter or margarine
3 large eggs
1/2 cup honey
1/2 cup granulated sugar
1 tablespoon vanilla extract
1 tablespoon grated lemon peel
2 cups all-purpose flour
1 teaspoon baking powder
1/4 teaspoon salt
1/4 teaspoon baking soda
1 cup whole maraschino cherries, drained
1/2 cup broken pecans
Cooking Directions:
Preheat oven to 325°F (160°C). Grease and flour 3 (6 x 3 1/4 x 2 1/2-inch) loaf pans; set aside.
Bring butter and eggs to room temperature.
In large mixer bowl, beat butter on medium speed of electric mixer about 1 minute. Gradually add honey, then sugar; beat 5 to 7 minutes after all honey and sugar are added.
Add vanilla and lemon peel; mix well.
Add eggs one at a time; beat after each addition. Scrape bowl frequently.
Combine flour, baking powder, salt and baking soda; mix well. Add flour mixture to egg mixture; beat on low speed only until ingredients are blended; gently stir in cherries and pecans.
Pour batter into prepared loaf pans.
Bake for 40 to 50 minutes or until wooden pick inserted near center comes clean.
Cool 15 minutes in pan. Remove from pan; cool completely on wire rack.
Makes 3 (6x3x2-inch) loaves.
Recipe and photograph provided courtesy of the National Honey Board.