Search for recipes throughout the entire site or select one of the recipe collections from the drop-down menu on the search tool below: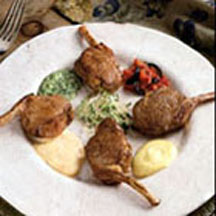 Broiled or grilled rib lamb chops are served with a spoonful each of four sauces: aioli sauce, tarragon aioli sauce, la rouille sauce and tomato provencale sauce.
Four Seasons Lamb Chops
Aioli Sauce
Tarragon Aioli Sauce
La Rouille Sauce
Tomato Provencale Sauce
16 rib lamb chops
Salt and pepper, to taste

For Aioli Sauce: In a food processor, combine 2 egg yolks and 24 garlic cloves. With motor running, slowly add 1 cup each olive and canola oils. Add 2 tablespoons lemon juice, 1 tablespoon vinegar, 1 teaspoon salt and 1/2 teaspoon white pepper. Process until sauce is thick, garlicky and slightly salty. Divide into three portions.

For Tarragon Aioli: In food processor, combine 1/3 of the above Aioli Sauce with 1 cup minced tarragon, 1/2 cup minced parsley and 2 tablespoons water.

For La Rouille Sauce: In bowl, whisk 1/3 of the Aioli Sauce, 2 teaspoons cayenne pepper, 2 tablespoons water and pinch saffron.

Tomato Provencale Sauce:

1 teaspoon minced garlic
1 tablespoon minced onion
2 Roma tomatoes, 1/4" dice
1 tablespoon extra virgin olive oil
8 black olives with 1 tablespoon juice
1 teaspoon fresh thyme
1/2 teaspoon herbs de provence
Salt and pepper to taste
Saute garlic and onions in olive oil. Add remaining ingredients and simmer until tomatoes are soft.
Set aside all sauces.
For Lamb Chops: Broil or grill lamb chops for preferred doneness, 4 to 5 minutes per side for medium rare, 3 inches from broiler or 4 to 6 inches from moderately hot coals. Top each chop with a large spoonful of each of the 4 sauces.
Makes 4 servings.
Recipe and photograph provided courtesy of the California Sheep Commission.