Garlic Pepper Lamb Steaks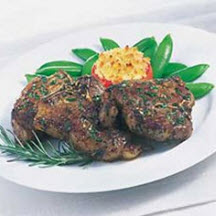 Recipe courtesy of the Meat and Livestock Australia.
Recipe Ingredients:
Seasoning Blend:
2 tablespoons steak seasoning
2 cloves garlic, crushed
1 tablespoon dried rosemary, dry, chopped
2 tablespoons chopped fresh flat-leaf parsley
1 teaspoon salt
4 lamb steaks or chops
3 tablespoons olive oil
Cooking Directions:
For Seasoning Blend: In a small bowl, prepare seasoning blend.
For Lamb Steaks: With paper towel, pat dry steaks and roll in seasoning blend. Press mixture firmly into the meat. Refrigerate for 30 minutes. Remove from refrigerator, let warm up to room temperature.
Preheat grill.
In skillet over medium-high temperature, quickly sear steaks in hot olive oil on both sides until light brown.
Remove steaks from skillet and place on grill. Grill to desired doneness. (145°F | 162.7°C is medium rare.) Remove from heat and serve.
Makes 4 servings.
Recipe and photograph courtesy of the Meat and Livestock Australia.