Leg of Lamb with Olive-Mustard Coating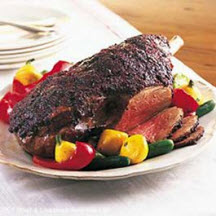 Recipe courtesy of the Meat and Livestock Australia.
Recipe Ingredients:
1 whole bone-in leg of lamb (about 7 pounds)
Olive-mustard coating;
45 kalamata olives, pitted
2 cloves garlic, peeled
2 teaspoons fresh rosemary
1 1/2 tablespoons Dijon mustard
1 teaspoon freshly ground black pepper
3 tablespoons olive oil
Cooking Directions:
Preheat oven to 350°F (175°C).
Place olives, garlic, rosemary, mustard and pepper in a food processor. Process to a smooth paste and gradually add oil.

Spread mixture all over the fat side of meat and place fat side up in a roasting pan.
Roast for about 1 hour 20 minutes. Check the internal temperature and remove lamb when temperature reaches 125°F (51.6°C) to 130°F (54.4°C) for medium rare. Let meat rest 10 to 15 minutes to complete its cooking (meat temperature will rise another 5°F to 10°F). Carve and serve.
Makes 6 servings.
Recipe and photograph courtesy of the Meat and Livestock Australia.