Rack of Lamb with Orange Carrot Stuffing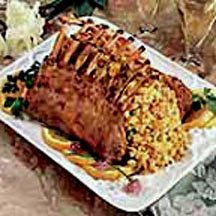 There are three good reasons to try this elegant lamb entrée: (1) It will definitely impress your dinner guests, (2) it's easier to prepare than it looks, and (3) it's delicious!
Recipe Ingredients:
2 American lamb racks, 8 ribs each, French cut
1/2 cup chicken broth
2 carrots, shredded
1 zucchini, shredded
1 onion, chopped
1 rib celery, chopped
3 cups dried whole wheat or multi-grain bread cubes
1 medium orange, peeled, seeded and chopped
1/4 cup chopped fresh parsley
2 teaspoons finely grated orange peel
1/2 teaspoon ground nutmeg
1/2 teaspoon dried sage leaves
1/2 teaspoon dried thyme leaves
1/2 teaspoon dried mint leaves
2 tablespoons orange juice concentrate
Cooking Directions:
Trim lamb racks well.
In medium saucepan, heat chicken broth. Add carrots, zucchini, onion and celery; simmer, covered, about 10 minutes, stirring occasionally.
Stir bread cubes, orange, parsley, orange peel and spices into vegetable mixture. If too dry, add extra broth. Don't over mix.
On broiler pan grid, press 2 lamb racks together so bones interlock at top and stuffing is in center. Tie if necessary. Brush each rack with orange juice concentrate.
Roast in preheated 375°F (190°C) oven for 30 minutes or until internal temperature reaches 145° to 150°F (65°C). Turn oven off and let racks rest 5 minutes in oven.
Makes 8 servings.
Recipe and photograph provided courtesy of the American Lamb Board.