Rack of Lamb with Orange Marmalade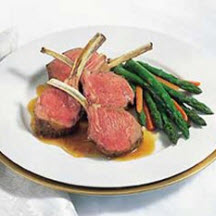 Recipe courtesy of the Meat and Livestock Australia.
Recipe Ingredients:
2 to 3 medium lamb racks
Spiced Oil Blend:
1/4 cup olive oil
1 tablespoon garlic salt
1/2 teaspoon dried thyme, crushed
1/2 teaspoon dried rosemary, crushed
1/4 teaspoon coarsely ground black pepper
Orange Marmalade Glaze:
1/2 cup orange juice
2 tablespoons lemon juice
1/2 cup orange marmalade
Pinch salt
Pinch ground white pepper
2 tablespoons butter
1/4 cup olive oil
Cooking Directions:
Preheat oven to 475°F (245°C).
For Spiced Oil Blend: Prepare spiced oil blend in small bowl and then liberally coat the meat.
In a saucepan, blend orange and lemon juice, marmalade, salt and white pepper. Simmer for 15 minutes. Add butter and keep warm on very low heat.
Heat olive oil in frying pan; brown racks for 2 minutes on each side until medium brown.
Place racks in baking dish and bake for 12 to 14 minutes (medium rare).
Remove racks, let rest for 10 minutes. Cut into individual chops and serve with glaze.
Makes 4 servings.
Recipe and photograph courtesy of the Meat and Livestock Australia.