Southwestern Leg of Lamb with Bacon-Corn Relish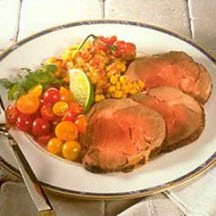 Recipe courtesy of the Meat and Livestock Australia.
Recipe Ingredients:
Spice Blend:
2 tablespoons ground cumin
1 tablespoon ground coriander
1 tablespoon chili powder
1 tablespoon garlic powder
1/2 teaspoon cayenne pepper
1 tablespoon kosher salt
1 (4 1/2-pound) leg of lamb
Bacon-Corn Relish:
16 slices bacon
4 cups frozen corn, thawed
3 large onions, finely chopped
5 cloves garlic, finely chopped
Juice of 2 limes
Cooking Directions:
Preheat oven to 425°F (220°C).
For Spice Blend: Combine the cumin, coriander, chili powder, garlic powder, cayenne and salt. Rub 4 tablespoons of spice mixture over leg. Reserve the remaining spice mixture. (Lamb can be rubbed up to 1 day in advance.)
Tie leg with butcher's string. Place leg on a rack in oven and reduce temperature to 400°F (205°C), roast for about 1 1/4 hours, to an internal temperature of 140°F (60°C).
For Bacon-Corn Relish: Cook bacon until crispy, reserve the fat. When cool, crumble bacon.
In a sauté pan, heat 1 tablespoon bacon fat and add corn, onion, garlic and remaining spice mixture to taste.
Cook for about 7 minutes until corn, onion and garlic are cooked and corn is starting to brown. Stir in crumbled bacon.
Just before serving, stir in lime juice.
Makes 6 servings.
Recipe and photograph courtesy of the Meat and Livestock Australia.