Tex-Mex Cutlets with Guacamole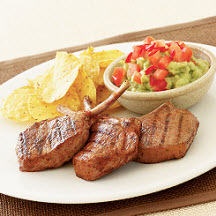 Recipe courtesy of the Meat and Livestock Australia.
Recipe Ingredients:
12 lamb chops
Olive oil to brush
3 teaspoons mild Mexican taco seasoning
Guacamole:
2 ripe avocados
1 tablespoons fresh lemon juice
2 tomatoes, finely diced
1 teaspoon chopped green chile pepper (optional)
Tortilla chips for accompaniment
Cooking Directions:
Brush the lamb with olive oil and sprinkle with the Mexican taco seasoning.
Preheat a broiler, grill or non-stick frying pan.
Cook the cutlets for 2 minutes on each side or until golden and cooked to your liking. Place on a plate, loosely cover with foil and rest for 5 minutes.
For Guacamole: Peel the avocados, place the flesh and lemon juice in a bowl and mash with a fork. Season with black pepper. Top with scattered, diced tomatoes (and chili pepper if desired).
Serve the guacamole with the lamb cutlets and tortilla chips.
Makes 4 (3 chop) servings.
Recipe and photograph courtesy of the Meat and Livestock Australia.