Search for recipes throughout the entire site or select one of the recipe collections from the drop-down menu on the search tool below: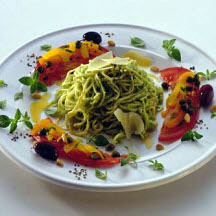 A heavenly dish made in minutes! (AND a deliciously clever way to get your kid's to eat their vegetables!
Broccoli Pesto Angel Hair Pasta
1 cup hot water
2 MAGGI® Chicken Bouillon Cubes
1 (16-ounce) package frozen chopped broccoli, prepared according to package directions, drained
1/4 cup freshly grated Romano or Parmesan cheese
1/4 cup fresh basil leaves
2 tablespoons extra virgin olive oil
2 cloves garlic, peeled
1/4 teaspoon salt
1 (9-ounce) package BUITONI® Angel Hair Pasta, cooked, drained and kept warm
1/2 teaspoon coarsely ground black pepper
2 tomatoes, thinly sliced
Combine water and bouillon in small bowl; stir to dissolve.
Place broccoli, broth, cheese, basil, olive oil and garlic in food processor or blender; cover. Process until smooth.
Toss broccoli pesto with pasta; sprinkle with pepper. Serve with tomato slices.
Makes 4 servings.
Recipe and photograph are the property of Nestlé® and Meals.com, used with permission.