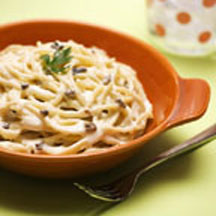 Fast and easy, spaghetti in cheesy mushroom sauce.
Spaghetti in Mushroom Cheese Sauce
2 cups milk
1 (2.29-ounce) packet MAGGI Creamy Mushroom Soup Mix
1 teaspoon vegetable oil
2 cloves garlic, finely chopped
1 cup (4 ounces) shredded mozzarella cheese
1/2 cup (1.5 ounces) shredded Parmesan cheese
1 (16-ounce) package dry spaghetti, prepared according to package directions
Fresh parsley or cilantro
Mix milk and mushroom soup mix in small bowl; set aside.
Heat oil in large skillet over medium-low heat; add garlic and cook for 1 minute. Add soup mixture, mozzarella cheese and parmesan cheese; mix well. Cook, stirring occasionally, for 5 minutes or until cheese has melted and sauce has thickened. Add spaghetti; toss until coated. Garnish with parsley.
Makes 6 servings.
Estimated Times
Preparation Time: 10 mins
Cooking Time: 7 mins
Recipe and photograph are the property of Nestlé® and Meals.com, used with permission.