Artichoke Pizza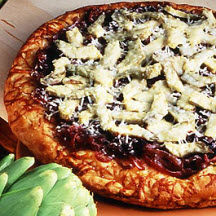 Recipe courtesy of California Artichoke Advisory Board.
Recipe Ingredients:
3 to 4 jumbo artichokes
3 large red onions, thinly sliced
1/4 cup granulated sugar
1/2 cup dry red wine
1 (16-ounce) Italian bread shell or brown and serve focaccia
2 tablespoons olive oil
1 cup chopped Kalamata olives
Kosher salt
Herbs de Provence*
Cooking Directions:
Add artichokes to boiling water. ( If desired; oil, lemon juice and herbs may be added to water.) Cover and boil gently 25 to 40 minutes or until petal near center pulls out easily. Stand artichokes upside down to drain; cool. Remove leaves and choke. Cut heart into thin slices.
Place onions, sugar and wine in heavy skillet. Cook on medium-high heat, stirring occasionally until the onions are translucent and all liquid has evaporated. Cool before using.
Brush bread shell with oil (or halve focaccia horizontally and brush cut surfaces with oil); sprinkle with herbs and kosher salt.
Top with caramelized red onions, cheese, olives and artichokes.
Bake at 375°F (190°C) 25 to 30 minutes or until center is lightly toasted and edges are golden brown.
Cool. Cut into 8 wedges and serve at room temperature.
Makes 6 servings.
*An equivalent substitution for herbs de Provence is made by mixing 4 parts each thyme and summer savory and 1 part rosemary.
Nutritional Information Per Serving (1/6 of recipe): Calories: 307; Total Fat: 8g; Cholesterol: 13mg; Total Carbs: 47g; Fiber: 5g; Protein: 9g; Sodium: 817mg.
Recipe and photograph courtesy of California Artichoke Advisory Board.