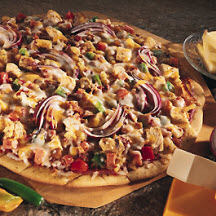 Recipe by Chef Jeffrey Freehof, who won 'Pizza of the Year' at the 2000 International Pizza Expo with this pizza.
Calypso Pizza
20 ounces pizza dough
6 ounces pizza sauce
6 ounces white meat chicken, diced
3 ounces cooked bacon bits
3 ounces diced ham
4 ounces small chunked pineapple
1 1/2 ounces green bell pepper, diced
1 1/2 ounces red bell pepper, diced
1 1/2 ounces Bermuda onion, sliced
1 tablespoon freshly chopped garlic
1 tablespoon Caribbean Jerk spice
4 ounces Wisconsin Monterey Jack cheese, shredded
4 ounce Wisconsin Cheddar cheese, shredded
4 ounces Wisconsin Mozzarella cheese, shredded
Stretch dough onto a 16-inch screen and top with pizza sauce. Set aside.
Combine chicken, bacon bits, ham, pineapple, green and red peppers, onion, garlic, and Caribbean Jerk spice. Set aside.
Combine three cheeses. Sprinkle half the cheese over sauce. Follow with topping mixture previously set aside, spreading evenly over whole pie. Sprinkle other half of cheese blend over top.
Bake directly on rack at 400°F (205°C) for 18 to 20 minutes, until crust is golden and the toppings are hot and bubbly.
Makes 4 servings.
Recipe and photograph provided courtesy of Wisconsin Milk Marketing Board, Inc.