Grilled Pizza with Three-Cheese Blend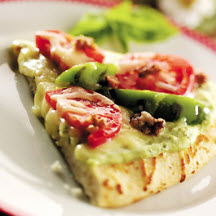 Grilling pizza is easy, especially when using a pre-baked pizza crust. To ensure the cooking process goes smoothly, have all the ingredients prepped and ready to use prior to grilling. Serve with a green salad tossed with an Italian vinaigrette, wedges of fresh melon or other seasonal fruit and ice cold drinks.
Recipe Ingredients:
3 large garlic cloves, peeled
3/4 cup Wisconsin whole milk ricotta cheese
1/3 cup Wisconsin Asiago cheese, cubed
1/2 cup fresh basil leaves, lightly packed
2 tablespoons milk
1/4 teaspoon salt
1/8 teaspoon ground black pepper
1 (10 to 14 ounces) pre-baked Italian pizza crust
2 cups shredded Wisconsin Monterey Jack cheese - divided use
2 medium Roma tomatoes, sliced
8 ounces cooked Italian sausage, broken into small pieces
1 small green bell pepper, seeded and cut into 1/2-inch strips
Extra virgin olive oil
Cooking Directions:
Preheat gas or charcoal grill to medium heat.
In a food processor or blender, process garlic until finely chopped. Add Ricotta, Asiago, basil, milk, salt and pepper; process until basil is finely chopped. Spread on pizza crust to within 1/2-inch of edge.
Sprinkle 1 cup Monterey Jack cheese over Ricotta mixture. Arrange tomatoes over cheese. Top with sausage. Set aside.
Brush green pepper strips with olive oil. Grill strips for 5 minutes or until crisp-tender, turning once. Dice green pepper; sprinkle over tomatoes along with remaining Monterey Jack cheese.
Place pizza on grill, cover and grill over indirect medium heat, rotating once, for 20 minutes or until cheese is melted. Let stand several minutes before cutting.
Makes 6 servings.
Recipe and photograph provided courtesy of Wisconsin Milk Marketing Board, Inc.