Grilled Portabella Pizza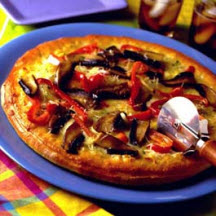 Recipe courtesy of the Mushroom Council.
Recipe Ingredients:
2 Portabella mushroom caps, sliced
2 tablespoons olive oil
1 medium size onion, thinly sliced
1 small red bell pepper, cut in strips
1 teaspoon minced garlic
1/2 teaspoon oregano or Italian seasoning, crushed
1/2 teaspoon salt
1/4 teaspoon ground black pepper
1 (12-inch) pre-baked pizza crust
1 1/2 cups shredded mozzarella cheese - divided use
Cooking Directions:
Prepare grill or preheat oven to 450°F (230°C).
In a large skillet, heat oil over medium-high heat. Add onion and bell pepper; cook and stir until tender, about 5 minutes. Add mushrooms, garlic, oregano, salt and pepper; cook and stir until mushrooms are tender, about 10 minutes.
Sprinkle 1 cup of the mozzarella over pizza crust; spoon mushroom mixture evenly over surface. Top with the remaining 1/2 cup cheese.
Place directly on grill (or, if cooking in the oven, on a baking sheet or a pizza pan). Grill or bake until cheese melts, about 7 minutes.
Makes 6 servings.
Recipe and photograph courtesy of the Mushroom Council.