Lentil and Fontina Cheese Pizza Pot Pie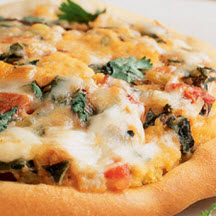 Pot pie takes on a whole new look and taste—veggie pizza-style!
Recipe Ingredients:
1 whole garlic head
1 1/2 cups dried small red lentils
1 tablespoon minced fresh thyme
2 tablespoons fresh lime juice
1/4 teaspoon salt
1 large red bell pepper
1 large yellow bell pepper
2 1/2 cups sliced shiitake mushroom caps (about 6 ounces)
3/4 cup diced leek
2 tablespoons water
3/4 cup diced tomato
1/4 teaspoon salt
1/4 teaspoon ground black pepper
1/3 cup fresh basil, thinly sliced
1/3 cup fresh cilantro, chopped
1/3 cup fresh mint, chopped
2 tablespoons fresh lime juice
Vegetable cooking spray
3/4 cup Wisconsin Fontina cheese, shredded
6 tablespoons grated Wisconsin Asiago cheese
Fresh herbs (optional)
Pizza Dough:
1/2 teaspoon granulated sugar
1 (0.25-ounce) package active dry yeast or 2 1/4 teaspoons
3/4 cup warm water (105°F to 115°F | 40°C to 45°C)
2 1/4 cups bread flour
3 tablespoons extra-virgin olive oil
1/2 teaspoon salt
Vegetable cooking spray
Cooking Directions:
Remove white papery skin from garlic head (do not peel or separate cloves). Wrap garlic head in aluminum foil. Bake in a preheated oven at 350° F for 1 hour; let cool 10 minutes. Separate cloves, and squeeze to extract garlic pulp; discard skins. Set aside.
Place lentils in a medium saucepan; cover with water, and bring to a boil. Cover, reduce heat, and simmer 20 minutes or until tender. Drain well. Place lentils in a bowl, and mash. Add garlic pulp, thyme, 2 tablespoons lime juice, and 1/4 teaspoon salt; stir well, and set aside.
Cut bell peppers in half lengthwise; discard seeds and membranes. Place peppers, skin sides up, on a foil-lined baking sheet; flatten with hand. Broil 15 minutes or until blackened. Place bell peppers in a zip-top heavy-duty plastic bag, and seal; let stand 10 minutes. Peel; dice bell peppers, and set aside.
Combine mushroom caps, leek, and 2 tablespoons water in a medium non-stick skillet; cook over medium-high heat 5 minutes or until liquid evaporates. Stir in diced bell peppers, tomato, 1/4 teaspoon salt, and pepper; cook 1 minute. Remove from heat; stir in basil, cilantro, mint, and lime juice. Set aside.
Coat insides and outside rims of six (oven-proof) 1 1/2-cup soup cups or bowls with cooking spray. Place 2 tablespoons Fontina cheese and 1 tablespoon Asiago cheese into bottom of each soup cup. Gently press 1/2 cup mushroom mixture into each cup. Gently press 1/2 cup lentil mixture into each soup cup, spreading to cover mushroom mixture. Place 1 prepared pizza crust over top of each cup, stretching dough over cup's outside rim and pressing to form a seal.
Place the soup cups on a jelly-roll pan, and bake at 450°F (230°C) for 15 minutes or until the crusts are lightly browned.
Invert each soup cup onto an individual plate, and remove cup. Garnish pizzas with fresh herbs, if desired.
For Pizza Dough: Dissolve sugar and yeast in 3/4 cup warm water in a large bowl; let stand 5 minutes. Stir in flour, oil, and salt to form a soft dough. Turn the dough out onto a lightly floured surface, and knead until smooth and elastic (about 5 minutes). Place dough in a large bowl coated with cooking spray, turning to coat top. Cover dough, and let rise in a warm place (85°F | 30°C), free from drafts, for 1 hour or until doubled in bulk.
Punch dough down, and turn out onto a lightly floured surface. Divide dough into 6 equal portions; roll each portion into a circle large enough to cover top of soup cups and extend 1/2 inch over sides. Bake according to recipe directions.
Makes 6 servings.
Recipe and photograph provided courtesy of Wisconsin Milk Marketing Board, Inc.