Marinated Mexican Chicken Pizza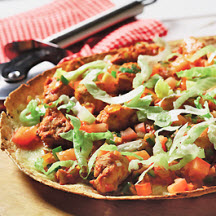 Recipe courtesy of CanolaInfo.org.
Recipe Ingredients:
1/4 cup lime juice
1/4 cup canola oil
1 clove garlic, minced
2 teaspoons chili powder
Salt and pepper to taste
4 boneless, skinless chicken breasts
4 (10-inch) flour tortillas
2 cups shredded Monterey Jack cheese
1 1/2 cups salsa
1/2 cup finely diced green pepper
1/4 cup finely diced red onion
1/4 cup finely chopped flat leaf parsley
1 cup shredded lettuce
3 Roma tomatoes, finely chopped
1/2 cup sour cream
Cooking Directions:
Combine lime juice, canola oil, garlic, chili powder and salt and pepper in large bowl. Whisk ingredients together.
Cut chicken breasts into 1/2-inch pieces. Toss with oil mixture. Marinate mixture, refrigerated, for 2 to 4 hours.
Stir-fry chicken mixture in large wok over medium high heat until chicken pieces are cooked and juices run clear. Set aside.
Preheat oven to 400°F (205°C).
Arrange tortillas on rimmed, foil lined baking sheets. Divide cheese and sprinkle over tortillas. Bake until golden brown, about 6 minutes.
Meanwhile, combine chicken, salsa, green pepper, red onion and parsley. Mix well. Spoon mixture onto warm tortillas. Spread mixture as evenly as possible. Bake again until heated through, about 5 minutes.
Top with lettuce, tomatoes and a dollop of sour cream. Serve immediately.
Makes 4 servings.
Nutritional Information Per Serving (1/4 of recipe): Calories: 380; Total Fat: 21g; Saturated Fat: 8g; Cholesterol: 70mg; Total Carbs: 21g; Fiber: 0g; Protein: 26g; Sodium: 680mg.
Recipe and photograph courtesy of CanolaInfo.org.