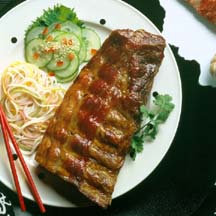 Savor the delicious aroma of this recipe as it slowly roasts in your oven. You will love the juicy, sweet flavor that these ribs deliver. Serve with cucumber salad and noodles.
Chinese-Style Spareribs
6 pounds pork spareribs
1/4 cup hoisin sauce
1/4 cup water
3 tablespoons dry sherry
2 tablespoons honey
2 tablespoons soy sauce
2 garlic cloves, minced
Cut spareribs into serving-size portions.
Place large plastic bag in large bowl. In bag, combine remaining ingredients; mix well. Add ribs, close bag tightly. Refrigerate 6 hours or overnight; turn bag several times to distribute marinade.
Drain ribs, reserving marinade. Place ribs in shallow roasting pan; cover with foil and bake in a 350°F (175°C) oven for 1 1/2 hours.
Uncover and brush ribs with the reserved marinade. Discard leftover marinade.
Bake, uncovered, for 30 minutes or till done.
Makes 6 servings.
Nutrition Facts : Calories 900 calories Protein 63 grams Fat 65 grams Sodium 550 milligrams Cholesterol 260 milligrams Saturated Fat 24 grams Carbohydrates 11 grams Fiber 0 grams
Recipe and photograph provided courtesy of Pork, Be Inspired®.