Search for recipes throughout the entire site or select one of the recipe collections from the drop-down menu on the search tool below: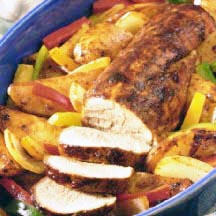 Pork tenderloin and baking potatoes prepared with green or red bell peppers and fajita seasoning mix spark this pork roast of tenderloin with zesty Mexican flavors. Serve with a crisp green salad dressed in a light vinaigrette.
Fiesta Pork Tenderloin with Oven Roasted Vegetables
1 1/2 pounds pork tenderloin
2 small baking potatoes, quartered
2 small green and/or red bell peppers, seeded and sliced
1 medium onion, coarsely chopped
2 tablespoons vegetable oil
1 (1.25-ounce) package taco seasoning mix

Garnish suggestions: Salsa, sour cream
Preheat oven to 400°F (205°C). Line roasting pan or 15x10-inch jelly-roll pan with foil.
Place tenderloin, potatoes, bell peppers, onion, oil and seasoning mix in large heavy-duty plastic bag; shake to coat. Place tenderloin in center of prepared pan. Arrange vegetables around tenderloin.
Bake, stirring vegetables halfway through, for 40 to 45 minutes or until tenderloin reaches an internal temperature of 170°F (75°C) and potatoes are tender. Let stand for 5 minutes before serving. Garnish as desired.
Makes 4 servings.
Recipe and photograph are the property of Nestlé® and Meals.com, used with permission.
Recipe Reviews:
Rate and submit your comments about this recipe below.