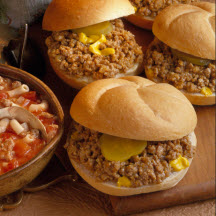 This Midwestern classic is made even better with ground pork. Serve with coleslaw, roasted potato wedges and thick milkshakes for dessert.
Really Made Rights
1 pound lean ground pork
1/2 cup beer
1 tablespoon granulated sugar
1 teaspoon dry mustard
3/4 teaspoon ground white pepper
Salt, to taste
6 soft sandwich buns
In large skillet cover pork with water; simmer until done, breaking apart as it cooks. Pork will be completely white. Drain well; add beer, sugar, dry mustard and pepper, simmer for 10 minutes. Salt to taste.
Serve on sandwich buns with dill pickle chips, chopped onion and yellow mustard.
Serves 6.
Recipe and photograph provided courtesy of Pork, The Other White Meat.