Kiwifruit Cilantro Jalapeño Salsa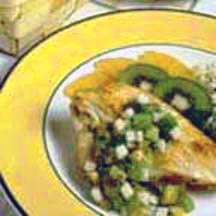 Serve this beautiful, sweet and spicy kiwifruit salsa as a dip with tortilla chips, toasted pita bread triangles or warm tortillas; as a sauce over grilled or baked halibut or swordfish steaks, chicken or roasted pork tenderloin; or in a warm flour tortilla filled with scrambled eggs.
Recipe Ingredients:
3 to 4 California kiwifruit, peeled and diced (1 1/2 cups)
2 medium tangerines or 1 orange, peeled and diced
1 cup peeled and diced jicama
1/2 cup diced sweet red or yellow bell pepper
1/4 cup chopped cilantro
1 tablespoon lime juice
1 tablespoon vegetable oil
1/2 to 1 small jalapeño pepper, minced (seeds and veins removed)
1/4 teaspoon salt
Cooking Directions:
In a large bowl, combine all ingredients, mixing well. Chill briefly.
Makes about 2 1/2 cups.
Recipe and photograph provided courtesy California Kiwifruit Commission.