Search for recipes throughout the entire site or select one of the recipe collections from the drop-down menu on the search tool below: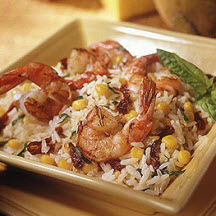 This is a one-dish entree that is quick, convenient, wholesome and tasty.
Summertime Shrimp and Rice Bowls
1 pound medium shrimp, peeled and deveined
3 cups hot cooked Texmati Rice*
1 (11-ounce) can corn, drained
1/4 cup drained and chopped sun-dried tomatoes in oil, reserving oil
1 cup shredded Italian cheese blend
1/4 cup plus 1 tablespoon slivered fresh basil leaves
1/2 teaspoon salt
Thread shrimp on skewers. To broil in oven, place on broiler rack coated with cooking spray. Brush shrimp with oil reserved from tomatoes. Broil four to five inches from heat for four minutes.
To cook on outdoor grill, brush shrimp with reserved oil from tomatoes. Cook skewered shrimp over hot coals four minutes. Turn and brush with additional oil. Grill four to five minutes or until done.
In large bowl, combine rice, corn, tomatoes, cheese, basil and salt. Spoon into individual bowls. Top rice with shrimp.
Makes 4 servings.
*American brand of basmati rice.
Recipe and photograph provided courtesy of RiceSelect, producers of Texmati Rice; through ARA Content.
Recipe Reviews:
Rate and submit your comments about this recipe below.