Antipasto Rice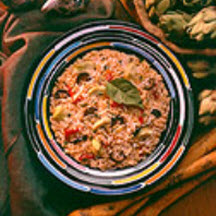 A delicious and easy Italian-style side dish of long grain rice, cooked in seasoned tomato juice, with artichoke hearts, roasted red peppers, ripe olives, lemon juice, fresh flat-leaf parsley and garnished with freshly grated Parmesan cheese.
Recipe Ingredients:
1 1/2 cups water
1/2 cup tomato juice
1 cup uncooked long grain rice
1 teaspoon dried basil leaves
1 teaspoon dried oregano leaves
1/2 teaspoon salt (optional)
1 (14-ounce) can artichoke hearts, drained and quartered
1 (7-ounce) jar roasted red peppers, drained and chopped
1 (2.25-ounce) can sliced ripe olives, drained
2 tablespoons chopped fresh flat-leaf parsley
2 tablespoons lemon juice
1/2 teaspoon ground black pepper
2 tablespoons freshly grated Parmesan cheese
Cooking Directions:
Combine water, tomato juice, rice, basil, oregano and salt in 2 to 3-quart saucepan. Bring to a boil; stir once or twice. Reduce heat; cover and simmer 15 minutes or until rice is tender and liquid is absorbed.
Stir in artichokes, red peppers, olives, parsley, lemon juice and black pepper. Cook 5 minutes longer or until thoroughly heated. Sprinkle with cheese.
Makes 6 servings.
Recipe and photograph provided courtesy of USA Rice Federation.