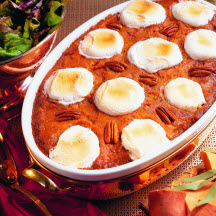 Smooth and fancy mashed sweet potatoes with ginger, cinnamon, nutmeg, crushed pineapple, chopped walnuts, topped with big, fluffy marshmallows.
Fancy Mashed Sweet Potatoes
6 sweet potatoes, cooked and mashed or 6 (15-ounce) cans sweet potatoes, drained and mashed

1 cup canned, crushed pineapple

3/4 cup pineapple juice

1/4 cup butter or margarine, melted

1/3 teaspoon each ground ginger, cinnamon and nutmeg

1 cup walnut pieces

10 large marshmallows
Place sweet potatoes in a bowl. Add pineapple, juice, butter and spices; blend together.
Mix in nuts and pour into a greased baking dish.
Top with marshmallows and bake for about 40 minutes at 350°F (175°C).
Makes 6 to 8 servings.
Created by Louisiana Sweet Potato Commission spokesperson, Holly Clegg.
Recipe and photograph provided courtesy of Lousiana Sweet Potato Commission.