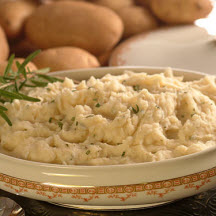 Happy are those who can snip fresh rosemary from backyard herb gardens; Garlic Rosemary Mashed Potatoes are made satisfying with evaporated milk and Parmesan.
Garlic Rosemary Mashed Potatoes
6 medium (about 2 pounds) potatoes, peeled, cut into 1-inch chunks
4 large cloves garlic, peeled
1/4 cup freshly grated Parmesan cheese
1 tablespoon butter or margarine
1 tablespoon chopped fresh rosemary or 1 teaspoon dried
2/3 cup (5-ounce can) NESTLÉ® CARNATION® Evaporated Milk
1 salt and ground black pepper to taste
Place potatoes and garlic in large saucepan. Cover with water; bring to a boil. Cook over medium-high heat for 15 to 20 minutes or until potatoes are tender; drain.
Return potatoes and garlic to saucepan. Beat with hand-held mixer until combined. Add cheese, butter and rosemary; beat until smooth. Gradually beat in evaporated milk until fluffy. Season with salt and pepper.
Makes 6 servings.
Nutritonal Information Per Serving: Calories: 177 Calories from Fat: 34 Total Fat: 3.8 g Saturated Fat: 2.5 g Cholesterol: 12 mg Sodium: 131 mg Carbohydrates: 30.2 g Dietary Fiber: 2.5 g Sugars: 2.1 g Protein: 6.4 g
Recipe and photograph are the property of Nestlé® and Meals.com, used with permission.