Green Beans with Pearl Onions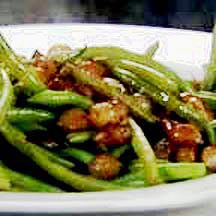 Green beans with pearl onions is a classic side dish.
Recipe Ingredients:
1 (16-ounce) bag of frozen pearl onions, thawed
3 pounds fresh green beans cleaned and trimmed
2 tablespoons butter
1 tablespoon balsamic vinegar
1/4 teaspoon salt
1/4 teaspoon thyme
Salt and pepper to taste
Cooking Directions:
Melt butter in a large skillet.
Add thawed pearl onions and cook, stirring, until they brown.
Add balsamic vinegar, thyme, salt and black pepper. Cook, stirring until the onions are glazed.
Blanch the trimmed green beans in a large saucepan of boiling water until tender about 5 minutes.
Drain and add to the skillet with the onions and toss to coat.
Add another splash of balsamic and season with salt and pepper.
Remove from heat, finish the green beans and onions with a splash of olive oil.
Makes 10 to 12 servings.
Recipe provided courtesy of HolidayKitchen.tv. Photograph property of CooksRecipes.com.