Persian-Style Cherry and Almond Rice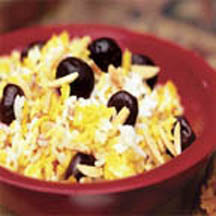 A delicious and unique, Persian-style rice dish with saffron, almonds and sweet cherries.
Recipe Ingredients:
1 teaspoon salt
2 cups long-grain or basmati rice
2 tablespoons vegetable oil
1/4 cup plain low-fat yogurt
1 teaspoon saffron threads, dissolved in 2 tablespoons hot water
1 cup frozen sweet cherries, thawed and drained
2/3 cup slivered almonds, roasted*
Cooking Directions:
Bring 4 cups water and salt to a boil in a medium pot.Meanwhile, place rice in a colander and rinse well with warm water.
Add rice to boiling water and boil briskly for 6 minutes, stirring occasionally. Drain rice in colander.
In the pot, stir together oil, yogurt, 1/4 cup rice from colander, and 1 tablespoon saffron water. Place 2 large scoops of rice into the pot, then 1/4 cup cherries. Repeat, alternating layers of rice and cherries. Cover and cook 10 minutes over medium heat.
Pour 1/2 cup water and remaining saffron water over rice. Place a clean dishtowel over pot to absorb steam and prevent stickiness; cover firmly with lid and cook 45 minutes longer over low heat.
Remove pot from heat, and cool on a damp surface for 5 minutes to loosen the golden crust.
Gently scoop rice onto a serving platter, sprinkling with almonds and mounding into the shape of a pyramid. Use a spatula to remove crust from the bottom of the pot, and serve this on the side.
Makes 6 servings.
To roast slivered almonds: Spread in an ungreased baking pan. Bake in a preheated 350ºF (175ºC) oven for 10 minutes or until fragrant; stir once or twice to assure even browning.
Recipe provided courtesy of www.nationalcherries.com and www.AlmondsAreIn.com, through ECES, Inc., Electronic Color Editorial Services.