Spinach Arancini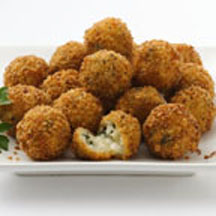 A favorite recipe of Chef Michael Chiarello, the culinary genius behind Bottega restaurant in the Napa Valley and an Emmy-winning TV chef who appears on Food Network and Bravo. (Arancini are Italian fried rice balls.)
Recipe Ingredients:
2 tablespoons extra-virgin olive oil
1 small onion, finely chopped
2 cloves garlic, finely chopped
3/4 cup uncooked Arborio rice
1/2 cup dry white wine
2 cups Progresso reduced-sodium chicken broth (from 32-ounce carton), heated
Freshly ground pepper to taste
1 cup chopped fresh spinach leaves
1 tablespoon butter
1/2 cup grated Parmigiano-Reggiano cheese
4 ounces mozzarella cheese, cut into 24 1/2-inch cubes
1/2 cup all-purpose flour
1 1/2 cups Progresso® Italian style panko crispy bread crumbs
1 large egg
1 tablespoon water
Vegetable oil for frying
Cooking Directions:
Line cookie sheet with cooking parchment paper. In three-quart saucepan, heat olive oil over medium-high heat. Add onion; cook about one minute, stirring frequently. Add garlic; cook and stir five minutes. Reduce heat to medium. Stir in rice and wine; cook five to 10 minutes, stirring frequently, until liquid is absorbed. Add one cup broth; cook about 10 minutes, stirring occasionally, until broth is absorbed. Add remaining one cup broth; cook about 10 minutes, stirring occasionally, until broth is absorbed.
Season with pepper. Stir in spinach, butter and Parmigiano-Reggiano cheese. Spread onto cookie sheet. Cover with plastic wrap; refrigerate at least 90 minutes or until firm. (Mixture can be refrigerated overnight.) On cookie sheet, shape rice mixture into 12-by-8 inch rectangle. Cut into six rows by four rows to make 24 squares. Place one mozzarella cheese cube in center of each square; shape rice around cheese cubes to make balls.
Place flour and bread crumbs in separate bowls. In another bowl, beat egg and water until blended. Coat each ball with flour, then dip into egg mixture and coat with bread crumbs. Place coated balls on unlined cookie sheet; refrigerate 30 minutes.
Line platter or shallow pan with paper towels. In four-quart Dutch oven, heat about two inches of vegetable oil to 350°F (175°C). Fry eight balls at a time three to four minutes, turning once, until golden brown. With slotted spoon, remove balls from Dutch oven to towel-lined platter to drain. Serve hot.
Makes 24 arancini.
Recipe and photograph provided courtesy of www.ProgressoBroth.com; through ARA Content.