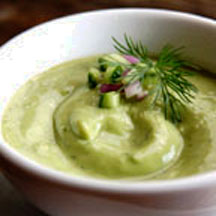 This chilled avocado and cucumber soup is full of fresh flavors and bursting with colors. It is simple to make using a blender. Garnish with finely chopped red onion, diced cucumber and chopped fresh dill for a festive flourish that will impress friends and family. Perfect for a simple entertaining option.
Chilled Spring Avocado-Cucumber Soup
1 (12-ounce) can NESTLÉ® CARNATION® Evaporated Lowfat 2% Milk
1/4 cup red wine vinegar
2 large or 3 small ripe avocadoes, halved, pitted, peeled and diced (about 2 1/2 cups total)
1 cup water
1 cup sliced unpeeled cucumber
1/3 cup snipped fresh dill
Diced cucumbers, finely chopped red onion and chopped fresh dill for garnish (optional)
Combine evaporated milk and vinegar in small bowl; let stand for 15 minutes.
Place avocadoes, water, evaporated milk mixture, 1 cup cucumber and 1/3 cup dill in blender; cover. Blend until smooth. Season with coarse salt and ground black pepper. Cover; refrigerate for 1 hour (can be made up to 4 hours in advance).
Pour soup into eight small bowls or glasses; garnish with cucumber, red onion and dill.
Makes 8 servings (about 2/3 cup per serving).
Nutritional Information Not Provided.
Recipe and photograph are the property of Nestlé® and Meals.com, used with permission.