Classic Onion Soup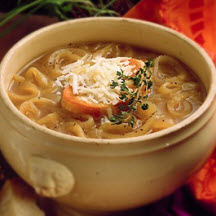 Have you had your onion today? On average, Americans consume almost 19 pounds of onions each year.
Recipe Ingredients:
8 cups yellow onions (about 2 1/2 pounds), sliced
6 tablespoons butter or margarine
4 teaspoons granulated sugar
2 quarts chicken broth
1/2 cup brandy (optional)
1/2 baguette French bread, sliced,toasted
1 tablespoon freshly grated Romano cheese
Cooking Directions:
Using large saucepan that holds at least 4 quarts, cook onions over medium heat, stirring often, in melted butter for 12 minutes or until tender and golden brown. Add sugar and cook, stirring, for 1 minute. Add broth, cover and bring to a boil. Simmer for 12 minutes.
If desired, add brandy and cook 2 minutes longer. Season to taste with salt and black ground pepper. To serve, float toast on bowl of soup and sprinkle with cheese.
Makes 6 servings.
Recipe and photograph courtesy of the National Onion Association.