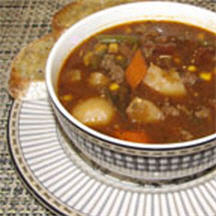 This is one of our most popular recipes. Economical, quick and easy, this wholesome and delicious soup is a satisfying meal in a bowl. Serve with hot cornbread or crusty bread rolls to round out the meal.
Another delicious recipe from our Family-Favorite Recipes Collection.
Easy Hamburger Vegetable Soup
1 medium onion, chopped

6 cloves garlic, chopped

2 stalks celery, sliced

1 medium bell pepper, coarsely chopped

4 medium potatoes, peeled and cubed

4 large carrots, pared and sliced

1 pound lean ground beef

1 (28-ounce) can diced tomatoes, undrained

8 cups of water

2 1/2 tablespoons beef base* or boullion granules

1 large bay leaf

1 teaspoon dried basil leaves

1 tablespoon dried parsley leaves

1 tablespoon Worcestershire sauce

1 teaspoon Tabasco sauce (optional)

1 teaspoon kosher or sea salt - or to taste

1/2 teaspoon freshly ground black pepper - or to taste
Prep the first 6 ingredients and set aside.
In a large cooking pot, brown the ground beef over medium high heat; drain excess grease.
Add the onion and garlic; cook until onion has slightly softened, about 2 to 3 minutes.
Add the tomatoes, water, beef base, bay leaf, basil, parsley, Worcestershire sauce,Tabasco, salt and pepper. Bring to a boil.
Add the bell pepper, celery, potatoes and carrots and bring to a boil; cover and simmer until vegetables are tender.
Makes 8 servings.
*I prefer and use Redi-Base soup bases available at www.redibase.com.
Tip: For a delicious and easy flavor variation, add a jar of marinara sauce, or better yet, your own leftover spaghetti sauce to the soup.
Nutritional Information Per Serving (1/8 of recipe): 278.6 calories; 39% calories from fat; 12.0g total fat; 42.5mg cholesterol; 491.8mg sodium; 1116.2mg potassium; 30.1g carbohydrates; 4.0g fiber; 5.3g sugar; 26.1g net carbs; 13.7g protein.
Copyright Hope Pryor, please see Terms of Use. Photograph by Hope Pryor; property of CooksRecipes.com.