Fava Bean Soup with Pepato Tartine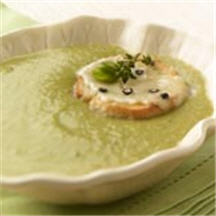 This buttery rich fava bean soup, served with French open-faced pepato (cracked black pepper cheese) sandwiches, was created by Chef Kenneth Oringer.
Recipe Ingredients:
Soup:
3/4 cup (1 1/2 sticks) butter
2 leeks, white part only, cleaned and sliced
3/4 cup shallots, peeled and sliced
2 pounds frozen fava beans, thawed
1 quart vegetable stock
2 tablespoons fresh thyme leaves, chopped
2 tablespoons fresh parsley, chopped
Salt and ground black pepper, to taste
Tartine:
1/4 cup extra virgin olive oil
1 (8-ounce) French baguette, cut in 8 thin slices
8 thin slices (4 ounces) Wisconsin Pepato cheese
2 tablespoons fresh thyme leaves, chopped
Fleur de Sel (French sea salt) to taste
Cooking Directions:
For Soup: Melt butter in a deep, heavy saucepan over medium heat. Add leeks and shallots; cook until fragrant, 3 to 5 minutes.
Add remaining beans and vegetable stock to leek mixture; heat until warm, stirring frequently, 8 to 10 minutes. Add herbs, salt and pepper to taste.
Purée mixture in a food processor, in batches, until smooth. Return puréed soup to another pan; keep hot.
For Tartine: Preheat the oven to 375°F (190°C).
Pour olive oil into a small bowl. Brush baguette slices with it. Place slices on baking sheet and bake for approximately 5 minutes or until golden brown. Top each with a slice of Pepato. Return to oven and bake for 3 to 5 minutes, until the cheese is melted. Sprinkle with thyme.
Final Presentation: Divide soup among 8 soup bowls. Drizzle with remaining olive oil and sprinkle with sea salt. Float a tartine on top of each serving. Serve immediately.
Makes 8 servings.
Recipe and photograph provided courtesy of Wisconsin Milk Marketing Board, Inc.