Gruyère Cheese and Sweet Potato Soup
with Maple Brioche Croutons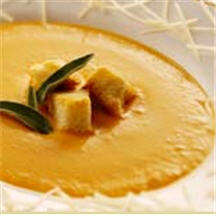 This superb recipe for cream of sweet potato soup with Gruyère cheese, accompanied with maple brioche croutons, was created by Chef Jason Gorman.

Recipe Ingredients:
Croutons:
4 thick slices brioche, cut in 1-inch cubes
2 tablespoons butter, melted
1 tablespoon maple syrup
1 pinch cayenne
1 pinch kosher salt
Soup:
3 medium sweet potatoes, peeled, large dice
1 quart chicken stock
1 quart heavy cream
1 stick cinnamon
1/4 teaspoon freshly ground nutmeg
1 tablespoon kosher salt
2 cups Wisconsin Gruyère cheese (Emmi-Roth Käse Surchoix), grated
1 sprig fresh sage, for garnish (optional)
Cooking Directions:
For Croutons: Preheat oven to 350°F (175°C). In a large mixing bowl combine brioche cubes with melted butter, syrup, cayenne and salt. Toss brioche cubes generally to cover with the mixture. Place croutons on a sheet pan and bake for about 10 minutes, until golden brown. Remove croutons from oven and set aside to prepare soup.
For Soup: Combine sweet potatoes, chicken stock and heavy cream in a large pot; bring to a boil and cook until sweet potatoes are soft. Place sweet potatoes and liquid into a blender and purée until smooth.
Return liquid to a medium size pot and add cinnamon, nutmeg and salt; simmer. Using a whisk, slowly stir in the Wisconsin Gruyère cheese. Adjust the seasoning if needed.
Final Preparation: Divide croutons evenly among bowls and place in bottom of bowls. Ladle soup over the top; garnish with fresh sage.
Makes 6 to 8 servings.
Recipe and photograph provided courtesy of Wisconsin Milk Marketing Board, Inc.