Savory Beef Stew with Roasted Vegetable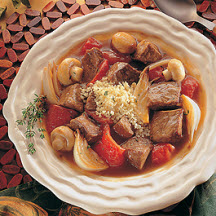 Recipe courtesy of The Beef Checkoff.
Recipe Ingredients:
Beef Stew:
1 3/4 to 2 pounds beef for stew, cut into 1-inch pieces
1 tablespoon olive oil
3 cloves garlic, minced
1 (14 to 14.5-ounce) can beef broth
2 teaspoons dried thyme
1 tablespoon cornstarch dissolved in 2 teaspoons water
2 teaspoons balsamic vinegar
Roasted Vegetables:
12 medium mushrooms
6 plum tomatoes, quartered, seeded
3 small onions, quartered
1 1/2 tablespoons each olive oil and balsamic vinegar
3 cups cooked couscous for accompaniment
Cooking Directions:
For Beef Stew: Heat 1 tablespoon oil in stockpot over medium heat until hot. Brown beef with garlic in batches; season with salt and pepper. Pour off drippings.
Combine beef, broth and thyme in pot; bring to a boil. Reduce heat; cover tightly and simmer 1 3/4 to 2 1/4 hours or until beef is fork-tender. Meanwhile prepare Roasted Vegetables.
For Roasted Vegetables: Preheat oven to 425°F (220°C).
Toss vegetables with 1 1/2 tablespoons each oil and vinegar; place in lightly oiled jelly roll pan. Roast in 425°F (220°C) oven 20 to 25 minutes or until tender.
Stir cornstarch mixture into stew; simmer and stir 2 minutes or until thickened. Stir in Roasted Vegetables and 2 teaspoons vinegar. Serve with couscous.
Makes 4 servings.
Recipe and photograph courtesy of The Beef Checkoff.