Spicy Western Bean Soup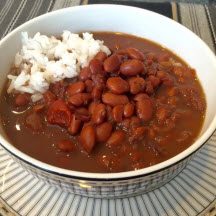 This recipe was created by my husband, Don...before we met. From the crazy list of ingredients, it is suspect that he kept adding to the pot until it was "just right"! Whatever his method, this great-tasting bean soup became a favorite of more than a few family members over the years. Pair this hearty bean soup with Hot Skillet Cornbread for a delicious and satisfying meal.
Recipe Ingredients:
2 pounds dried pinto beans (4 cups)

Approximately 2 pounds smoked ham hocks

Water, as needed

1 large onion, chopped

1/4 cup molasses

1/4 cup Worcestershire sauce

1/4 cup soy sauce

2 tablespoons Heinz chili sauce

1 to 2 pickled small yellow hot peppers, plus 1 tablespoon of juice

2 teaspoons Tabasco brand hot sauce

1 teaspoon dried basil leaves

1 teaspoon chili powder

1 large bay leaf

1/4 to 1/2 teaspoon red pepper flakes

2 (14.8-ounce) cans petite diced tomatoes

2 tablespoons lemon juice

2 teaspoons kosher or sea salt, or to taste

1/2 teaspoon freshly ground black pepper, or to taste
Cooked rice for accompaniment (optional)
Cooking Directions:
The Night Before: Sort through beans, discarding discolored or shriveled beans, rocks, dirt solids, etc. Rinse off thoroughly in colander and drain.
Place beans in large cooking pot and fill with at least 20 cups of water, or near to the top of the pot. Cover and allow to soak overnight. (See Cooking Tip.)
The Next Day: Drain water from soaked beans, add ham hocks and add enough fresh water to cover beans and hocks with at least 2-inches of water. Bring to a boil, skimming foam from the water's surface as it appears and discard.
Add the chopped onion and simmer, covered, for 1 1/2 hours, or until nearly tender, stirring occasionally.
Add the remaining ingredients (do not add these ingredients before Step 4, as acidic ingredients and salt can prevent beans from becoming optionally tender), and continue simmering for another 1 1/2 hours, stirring occasionally. Remove pot lid during the last half hour of cooking to reduce and thicken the liquid.
Serve in bowls as is, or with cooked rice, if desired.
Makes 12 servings.
Tip: Instead of soaking the beans overnight (preferred method), place beans in water, bring to a boil and cook, uncovered for 3 minutes. Turn off heat, cover pot and allow beans to soak for 1 hour. Drain water and continue with recipe.
Recipe by Don Pryor; copyright © 1999; Recipe and photograph property of CooksRecipes.com. See Terms of Use.