Meat, Poultry & Seafood Tips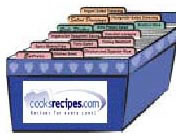 An interesting hodgepodge of useful, economical and clever tips for a variety of meats, poultry, fish and seafood.
As a rule of thumb, roast any meat (beef, pork, poultry, lamb, etc.) for 20 minutes per pound at 350°F (175°C).
For crisper skin, uncover the turkey the day before roasting and let stand in the refrigerator overnight.
When roasting a whole chicken or turkey, try adding flavor by stuffing some aromatic vegetables in the cavity - carrots, celery, onion, or garlic work nicely.
Sprinkle a bit of salt in the frying pan before adding meat. It will cut down on the amount of grease splattering.
To help lower a recipe's fat content, place cooked, ground meat in a colander and rinse with hot water after draining off the excess fat.
Rub both sides of a burger with water before grilling. It will make the burger juicier.
Meatloaf won't stick to the pan if you put a slice of uncooked bacon beneath the loaf before baking.
Chill chicken for 1 hour after coating it. The coating will stick better when cooking.
To keep hands clean, try using a potato masher next time you are mixing a meatloaf, or...If you don't like getting your hands messy when mixing meat loaf, put the ingredients in a large, zip-lock style plastic bag, seal, then mash the contents together until well mixed...and there's no bowl to clean!
You can make individual servings of meatloaf by using muffin tins. Remember to adjust the cooking time.
Pour cooled broth from meat or poultry into a glass jar with a secure lid and refrigerate upside down. The fat will harden and remain in the bottom of the jar when you pour out the liquid for use in your recipes.
Roast diced onions, carrots, and celery in the pan right along with meat or poultry. With the vegetables cooked down and flavored with the meat juices, you've the base for a wonderful gravy.
Roasts should be allowed to "rest" 10 to 15 minutes after being removed from the oven. This allows the juices to settle before carving.
Let your eyes and nose be the judge. Good quality seafood smells sea-fresh. It should not have a strong odor or smell "fishy." Fish fillets and steaks should appear moist, firm and freshly cut. Shellfish should be bright in color with no discoloration or dryness.
To know how long to cook fish, measure at the thickest point, then allow 10 minutes per inch. This applies to all methods of cooking, such as broiling, frying, grilling, poaching, and steaming.