Search for recipes throughout the entire site or select one of the recipe collections from the drop-down menu on the search tool below: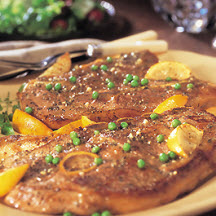 This recipe can also be prepared on the grill.
Veal Steaks Vesuvio
2 veal shoulder arm or blade steaks, cut 1-inch thick (about 2 pounds)
2 baking potatoes (about 1 pound), cut lengthwise into 8 wedges
1 lemon, cut lengthwise into 8 wedges
1/2 cup frozen peas, cooked

Seasoning:
2 tablespoons olive oil
3 large cloves garlic, minced
1 teaspoon dried oregano
1/2 teaspoon pepper
Combine seasoning ingredients. Brush 1/2 of seasoning on veal steaks. Toss remaining seasoning with potatoes.
Place steaks and potatoes on rack in broiler pan so surface of veal is 3 to 4 inches from heat. Squeeze juice from lemon wedges over steaks and potatoes; place wedges on rack. Broil 26 to 28 minutes for medium doneness, turning steaks, potatoes and lemon once. Remove steaks. Continue broiling potatoes and lemon 3 to 5 minutes or until lightly browned.
Carve veal; season with salt. Serve with potatoes, lemon and peas.
Makes 4 servings.
Recipe and photograph provided courtesy of the Beef Industry Council.