Search for recipes throughout the entire site or select one of the recipe collections from the drop-down menu on the search tool below: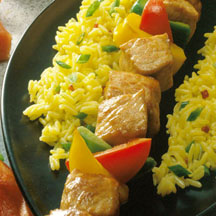 The ingredients for this marinade are usually on hand, and create intriguing flavor notes for grilled pork. Serve with a yellow rice pilaf studded with green peas and cashews, crusty French rolls and sliced oranges in a vinaigrette dressing.
Mustard-Bourbon Pork Kabobs
1 pound boneless pork chops, cut into 3/4-inch cubes
4 tablespoons Dijon-style mustard
4 tablespoons brown sugar
2 tablespoons bourbon
2 tablespoons soy sauce
In self-sealing plastic bag, combine all ingredients and mix well; seal bag and refrigerate overnight, 4 to 24 hours.
Remove pork from marinade, discarding any remaining marinade, and thread onto skewers.
Grill over a medium-hot fire, turning occasionally, for 8 to 10 minutes, until evenly browned.
Serves 4.
Recipe and photograph provided courtesy of Pork: The Other White Meat.
Recipe Reviews:
Rate and submit your comments about this recipe below.