All recipes are listed alphabetically in collections, so finding a recipe at CooksRecipes is as easy as using a cookbook!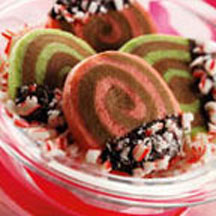 Sweet Minglers - Try this delicious snack perfect for winter holiday entertaining! It's easy to make and everyone will love it.
Peppermint Twists - These colorful, whimsical spiral cookies are half-dipped in melted dark chocolate and then in crushed peppermint candy canes.
Recipe:
Star-of-the-East Fruit Bread
Recipe:
Holiday Cheese Log
Recipe:
Eggnog Fudge
Recipe:
Holiday Wreath Popcorn Treats
Recipe:
White Christmas Pizza
Recipe:
Bohemian Kolache