All recipes are listed alphabetically in collections, so finding a recipe at CooksRecipes is as easy as using a cookbook!
Italian Beef and Cheese Calzone - A calzone is a pizza turned inside out — or a pizza turnover! This recipe is quick, easy and family-pleasing! Tip: Serve slices drizzled with warm pasta sauce, or on the side for dipping.
Orange-Scented Oat & Dried Cherry Muffins - The subtle taste of orange and re-hydrated, sweet-tart dried cherries make these tender oatmeal muffins a winner in both taste and texture. Serve these scrumptious muffins for breakfast, brunch or anytime snacking.
Recipe:
Cajun Sausage Jambalaya
Recipe:
Chewy Blueberry Oatmeal Cookies
Recipe:
Beer-Battered Fish and Chips
Recipe:
Fresh Strawberry Pie
Recipe:
Caesar Steak Sandwich
Recipe:
Triple Chocolate Bundt Cake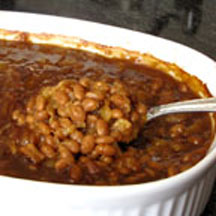 Recipe:
Good & Easy Baked Beans