Flax Seed Bread - This outstanding flax seed bread is sure to become a family favorite. It has a softer texture than most whole grain breads, and a mild, nutty flavor that makes it an ideal everyday bread that is terrific served as is, toasted or for making sandwiches.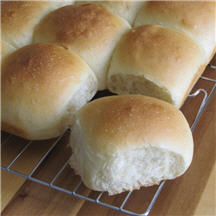 Best Butter Rolls Ever - This is my daughter Tiffany's recipe for her "family famous" butter rolls. They are simply the best homemade dinner rolls that I've ever eaten! I've lost count how many times I've heard others say the same thing about them...they are just that good!
Crusty French Bread with Garlic - This comforting loaf of homemade French bread has a crunchy outer crust and a moist, tender inner crumb fragrant with garlic. It was love at first bite...and this bread has been a family-favorite ever after. Recipe is written for bread machines.