Triple Chocolate Cheesecake - If ever there was a cheesecake to impress a chocoholic, this is it. This masterpiece of a cheesecake offers a chocolate crumb crust, with a luscious creamy chocolate filling and perfectly matched chocolate ganache for its crown.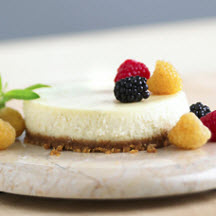 Brie Cheesecake - A dessert brie cheesecake with a gourmet attitude. Recipe by Chef Franklin Becker.
Tiramisu Cheesecake with Mascarpone Cheese - A splendid, delizioso cheesecake made with ricotta and mascarpone cheeses, in a biscotti cookie crumb crust, with all the yummy flavor of the classic Italian dessert, Tiramisu.