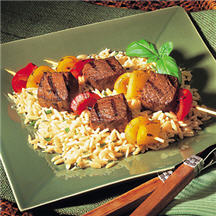 Beef Kabobs with Parmesan Orzo - Skewers of grilled top beef sirloin cubes and colorful red and yellow bell pepper chunks, lightly seasoned with Italian dressing, are served atop a bed of orzo, a tiny rice-shaped pasta, flavored with fresh basil and Parmesan.
Steak Kabobs & Wild Rice with Mushrooms - Marinated cubes of beef round tip steak are threaded onto skewers with red onion, yellow summer squash and bell pepper and served with a wild mushroom and rice pilaf.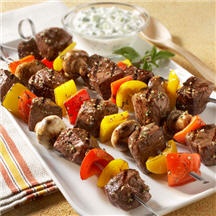 Beef Kabobs - If you're looking for a fun and healthy meal to grill the whole family will love, look no further than beef kabobs with fresh vegetables.